Are your backyard dreams falling short? Is your patio to blame? Is your time outdoors limited because your patio isn't giving you enough reason to stay out there and enjoy it?
We understand. Getting maximum use out of your landscape and enjoying your personal great outdoors isn't going to happen if you are stuck with a boring patio. It's a total bummer.
Maybe you moved into an existing home and the previous owner didn't put a lot of thought into the patio they chose. Or maybe you had a patio installed years prior and it's falling short of your expectations and needs.
If you're considering a patio improvement in the Greater Chicago area, you've come to the right place. If you have a good-quality patio with a solid base, we have some recommendations for enhancing your space.
Consider these ideas for taking your Suburban Chicago patio to the next level.
6 Ways to Transform a Boring Patio
Ok, you want to revamp your patio. Your first step is to think about your entire space.
Ask yourself, "What do I ideally want to do in my backyard? How do I foresee myself getting the best use out of my landscape?"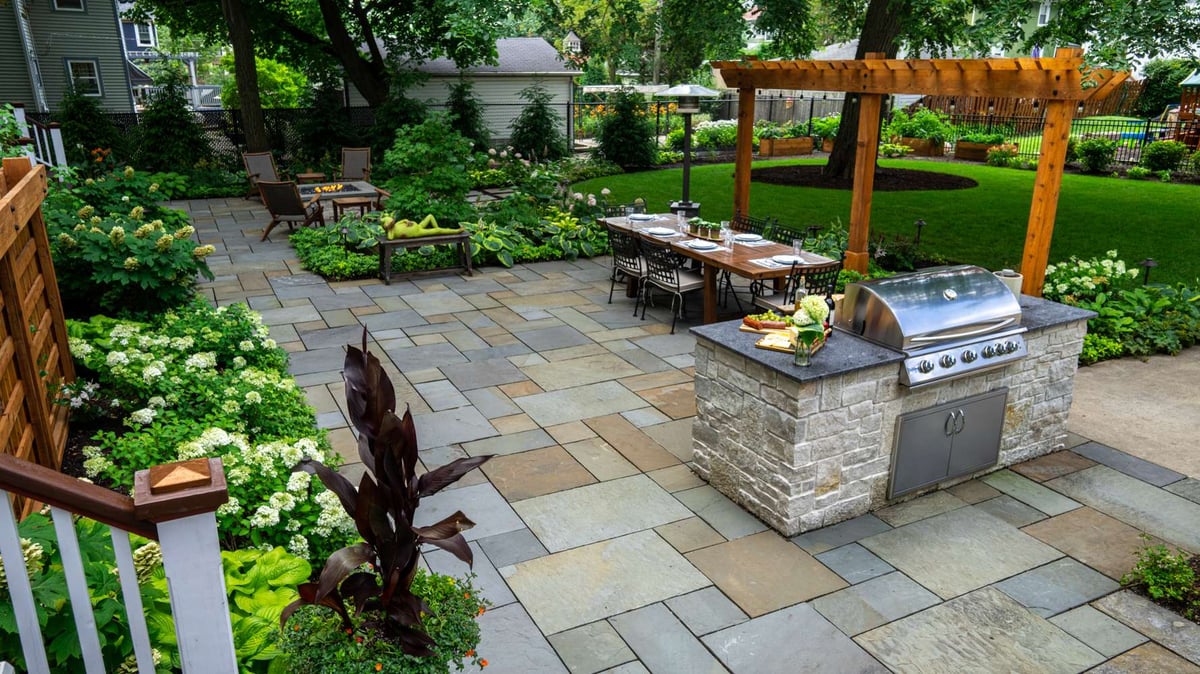 Maybe you have plans to add an outdoor kitchen, for instance, or you're looking for a cozier lounge area with a fireplace. It's possible you could be seeking more privacy.
Whatever your desire, you want to consider the whole space together with your goals as you proceed to ensure each part of your plan takes you toward that final outcome you're envisioning.
As you think about all the ways you can liven up your outdoor living area, making it more functional and beautiful, consider these patio design tips.
1. Add Some Outdoor Entertainment
Want to enjoy the outdoors while cheering on your favorite sports team? Or maybe add some music to your backyard while you're grilling dinner for the family? Add some outdoor audio and video to your boring patio and we can assure you it will be boring no more.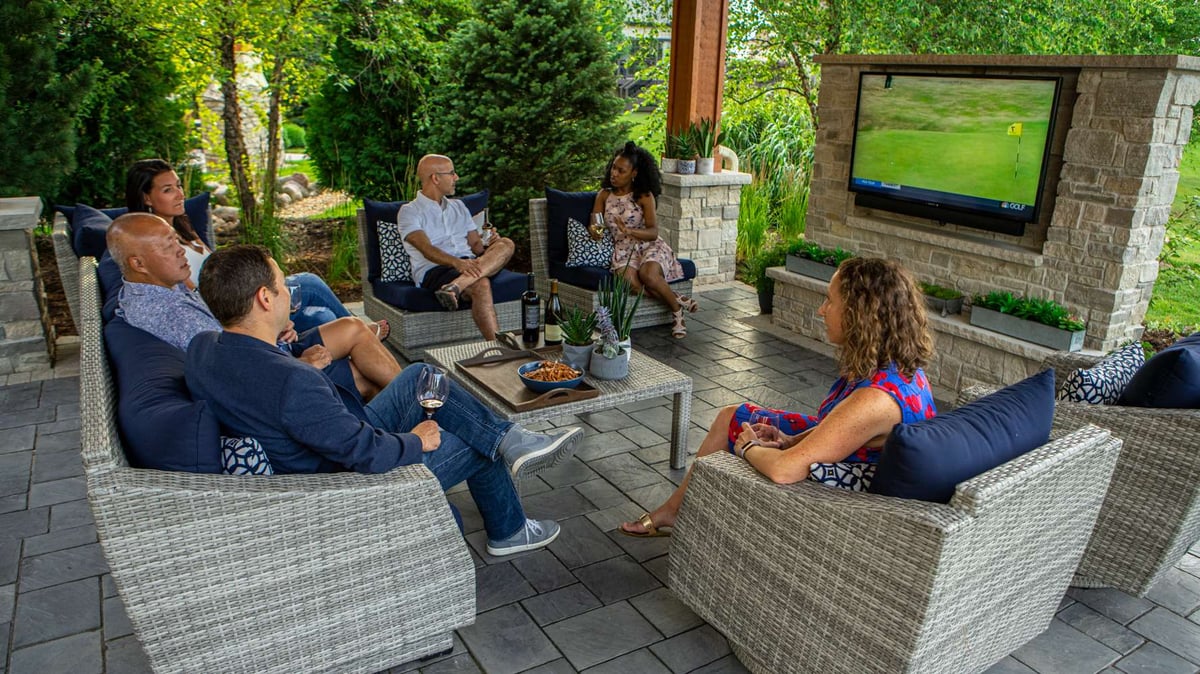 An outdoor television added under a pavilion can protect it and you from the weather, ensuring your party never gets rained out or that your party guests never get sunburnt. And outdoor movie night is always more magical when stars are glittering from the sky in the background.
2. Warm It Up With a Fire Feature
Redesign your patio by adding a fire feature. Not only does fire increase your outdoor enjoyment, it brings light and heat in an ambient package to which little can compare.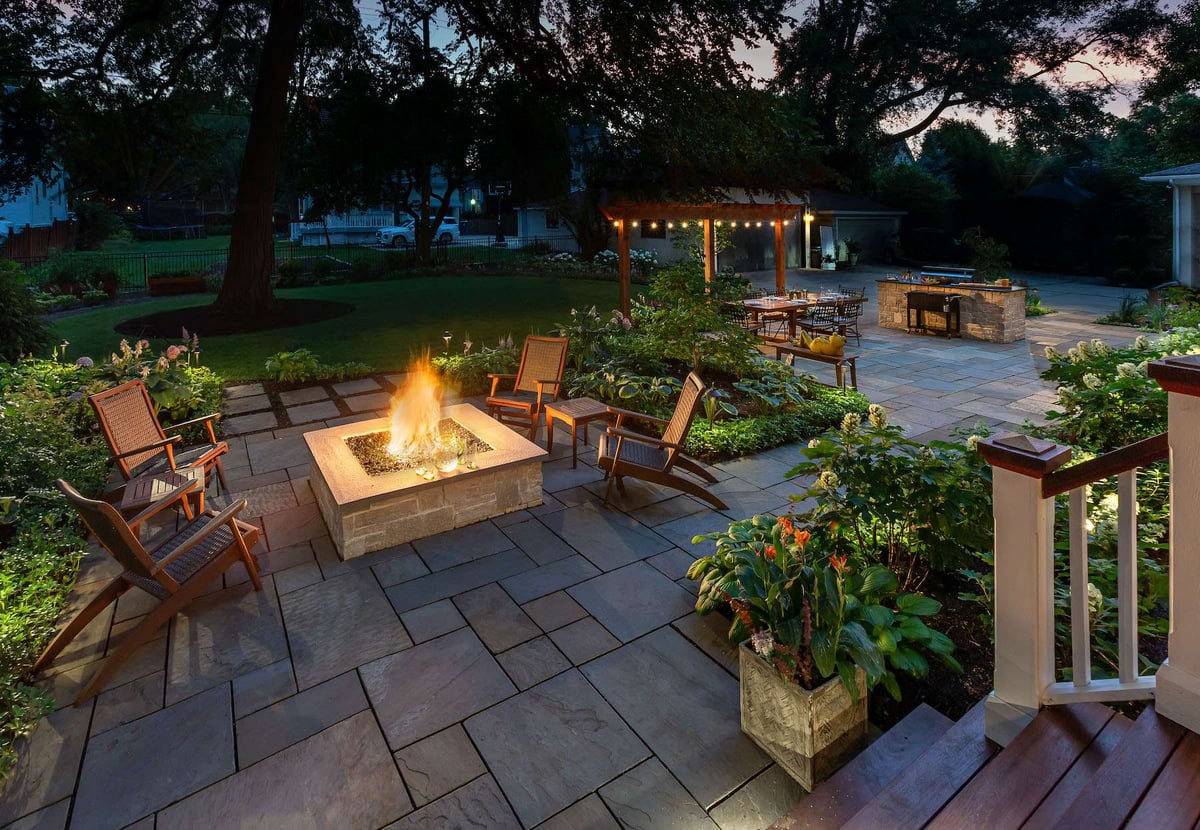 Fire pits are classic hangouts. Everyone likes to gather around a fire to socialize or share s'mores recipe ideas. A larger fireplace can add a vertical design element to your backyard. And if both fire pits and fireplaces are too much, you can also add a fire element in a smaller way through a fire table.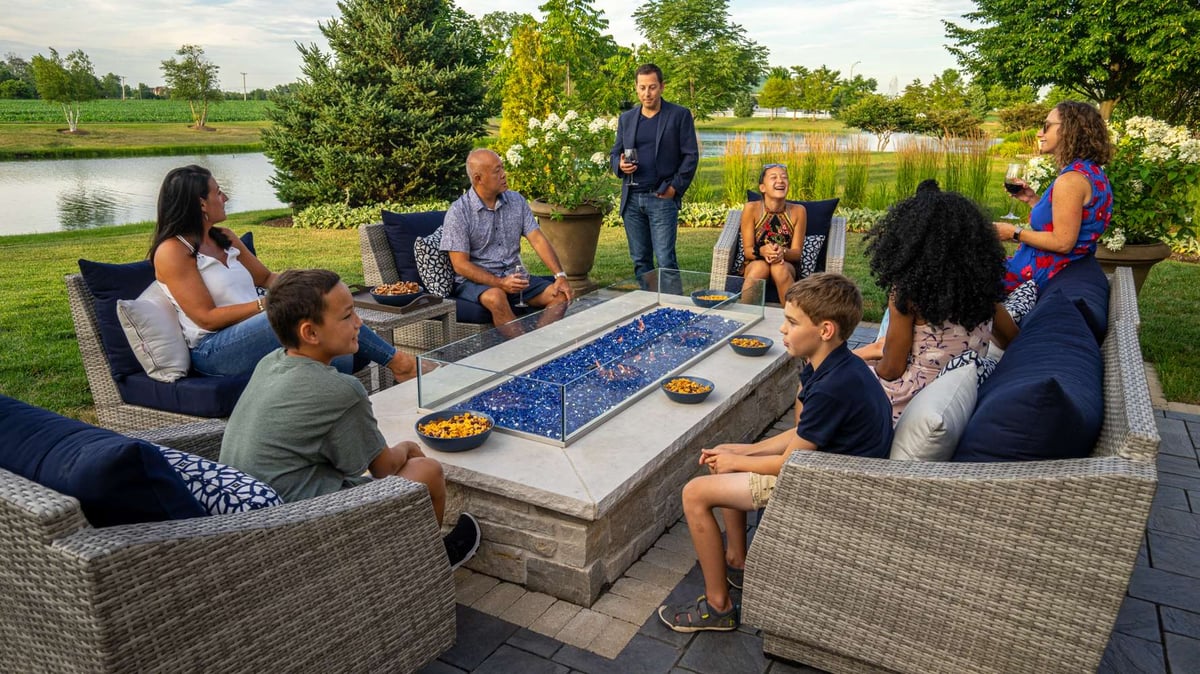 Whichever way you go, fire is an unbeatable addition to a patio.
3. Try a Water Feature
While the fire element is hot, a water element can be very cool. Spice up your boring patio with a water feature.
You can opt for a simple fountain or something more complex like a pondless waterfall or water sculpture.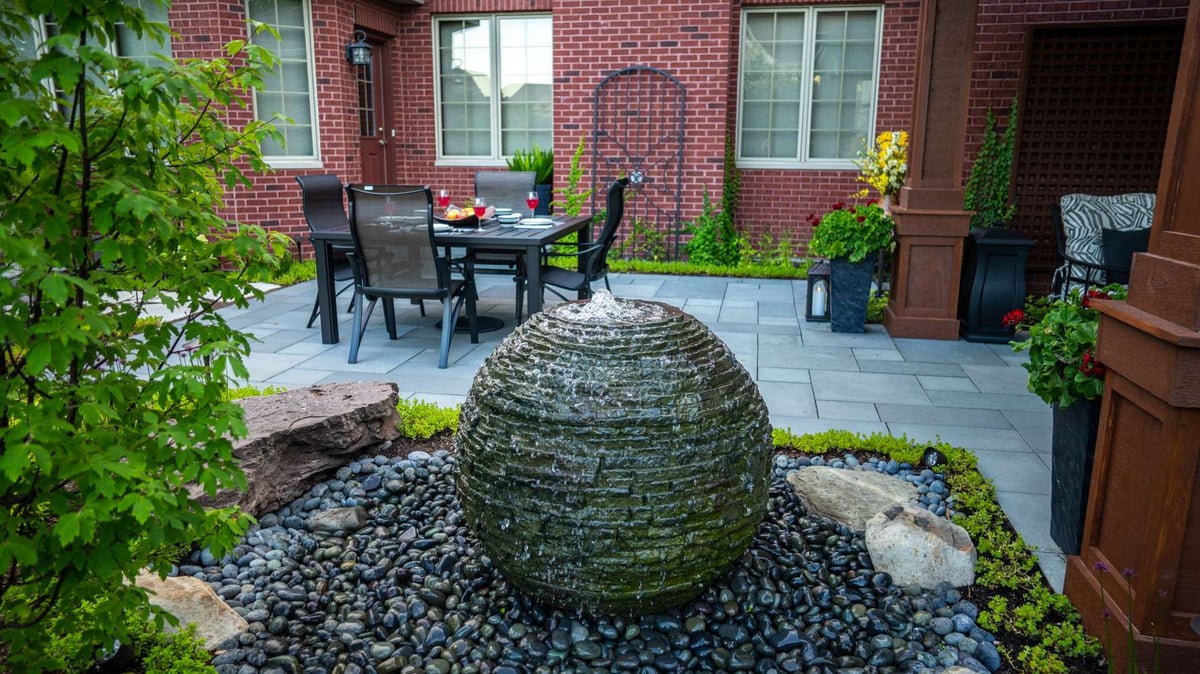 The visual appeal of a water feature is mesmerizing to watch. Plus, the sound of running water is not only soothing and stress relieving, but it can also mute out unwanted noise like nearby traffic.
4. Don't Forget the Softscapes
Sure, a patio is great. It gives you a place to relax and have dinner or invite friends over for connection and games outdoors.
But you can easily redesign your patio, softening its hard edges, with some plants.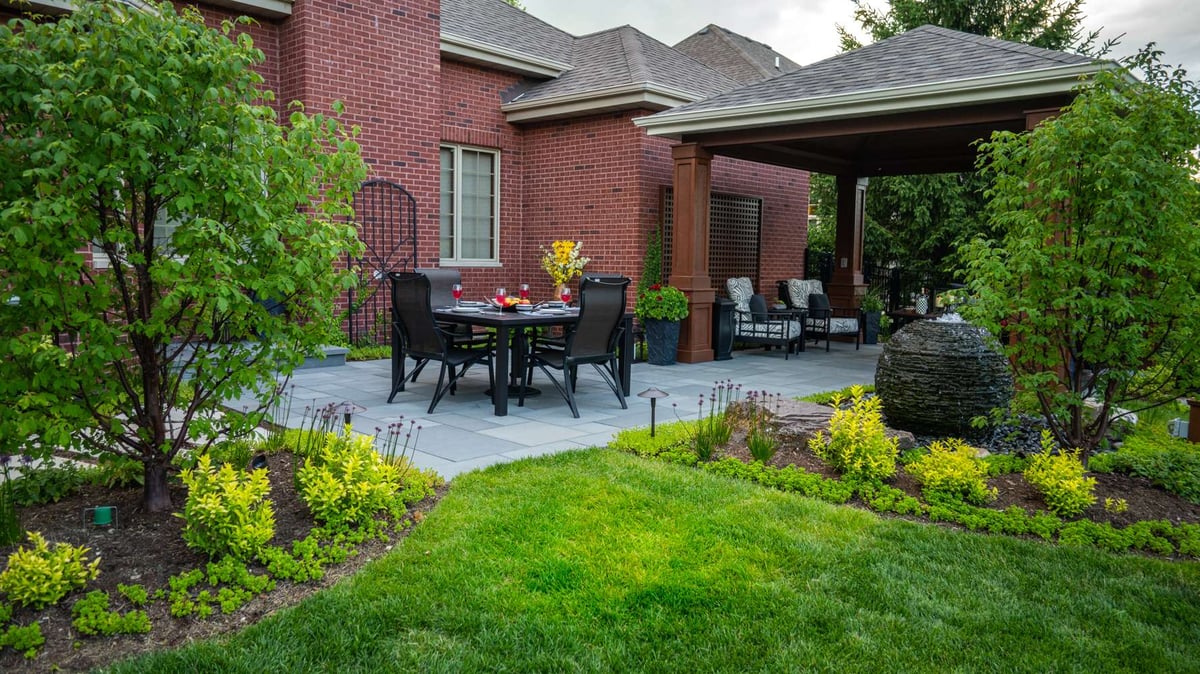 Greenery and vibrant color create privacy, add shade, and even bring amazing sights like butterflies and blooms, intoxicating floral scents, and even amazing sounds like the sounds of ornamental grasses billowing in the breeze.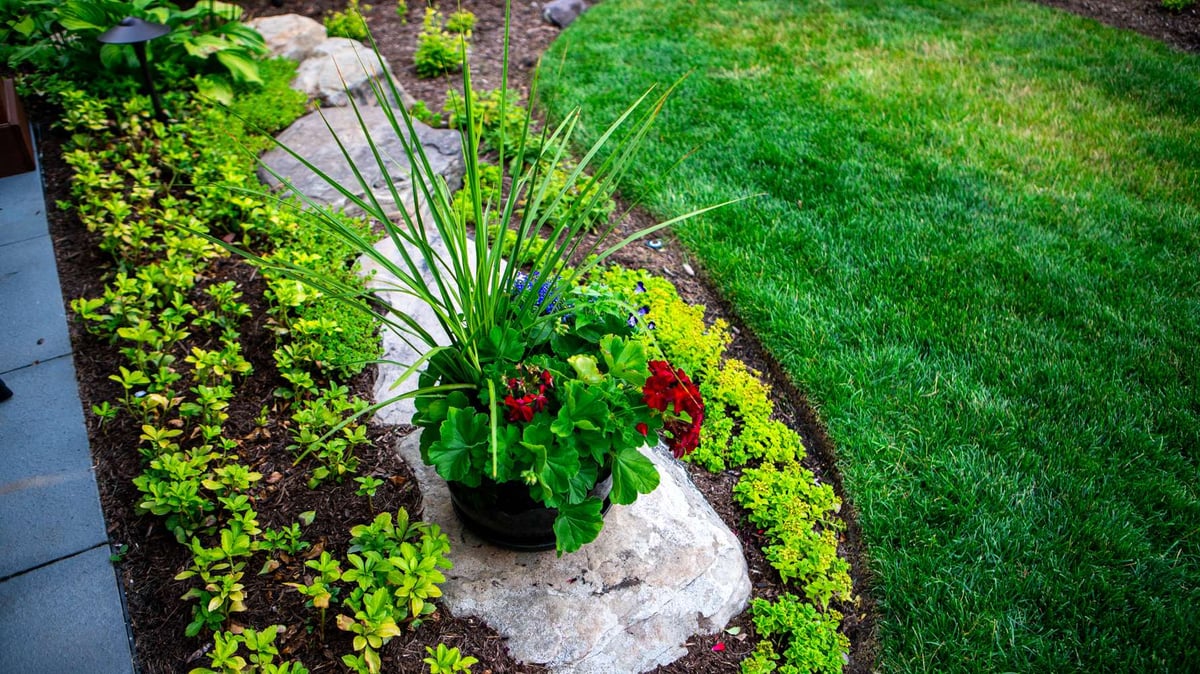 In addition to landscape beds surrounding your patio, you can also add some structure, greenery, and color through the addition of containers. And you can have the container plantings updated throughout the year to ensure continued color and interest so they never get boring.
5. Add Vertical Structures to Your Patio
Interested in using your patio rain or shine? Then you might want to add a pavilion.
Once you add a roof, you enable full use. If you wish you could get more use out of your patio, this solution ensures Mother Nature can't stop you from having your outdoor fun.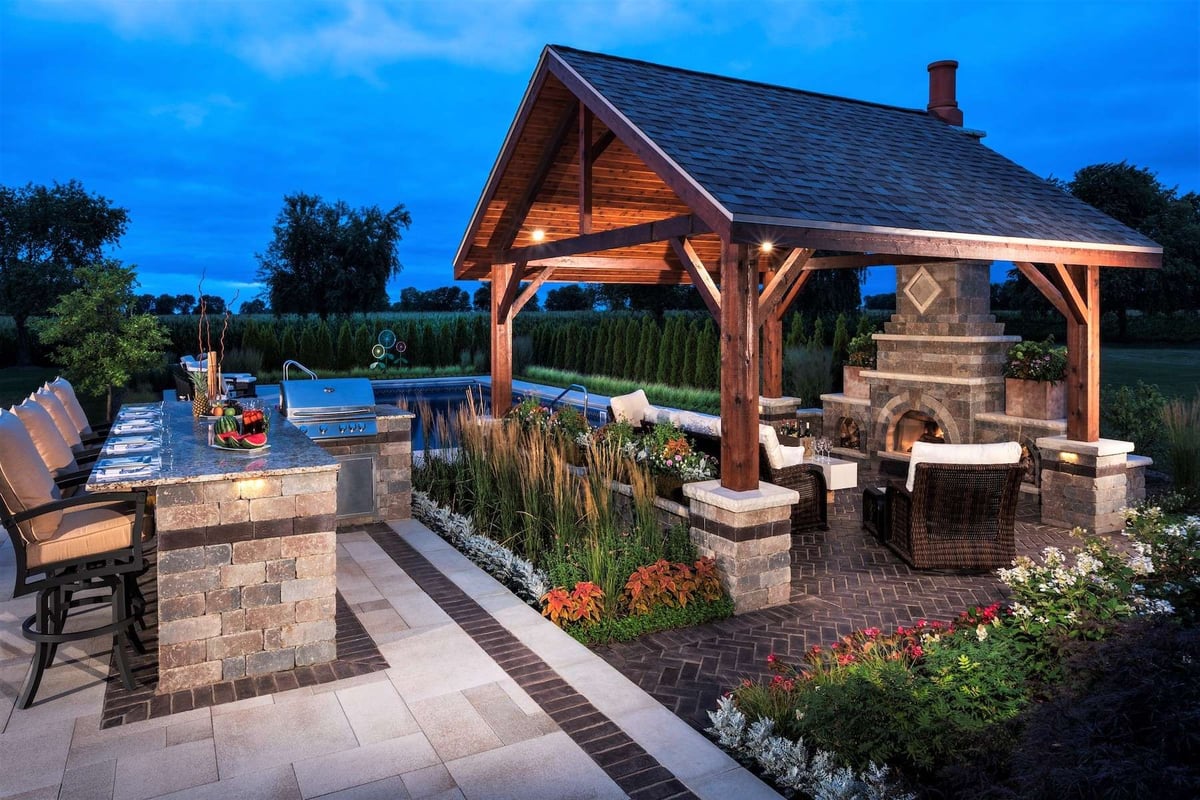 What's more is that a pavilion enables the use of some of the finer things that excess weather may restrict, such as nicer outdoor furniture or electronics. Trying to survive a heatwave? Add a ceiling fan? Beat Chicago's winter chill with an overhead heater.
Either way, you just extended your usable season quite a bit by adding an overhead landscape structure.
Another thing structures like pavilions or pergolas provide in addition to some sun and rain protection is a vertical visual element. This alone can give your boring patio a boost.
6. Light It Up With Landscape Lighting
Speaking of extending your usable time outdoors, adding landscape lighting is a great way to extend your daylight hours.
You can cook a meal even when sunset looms and still be able to see your steak sizzling. You can have a romantic dinner or fun night with friends under the ambient light.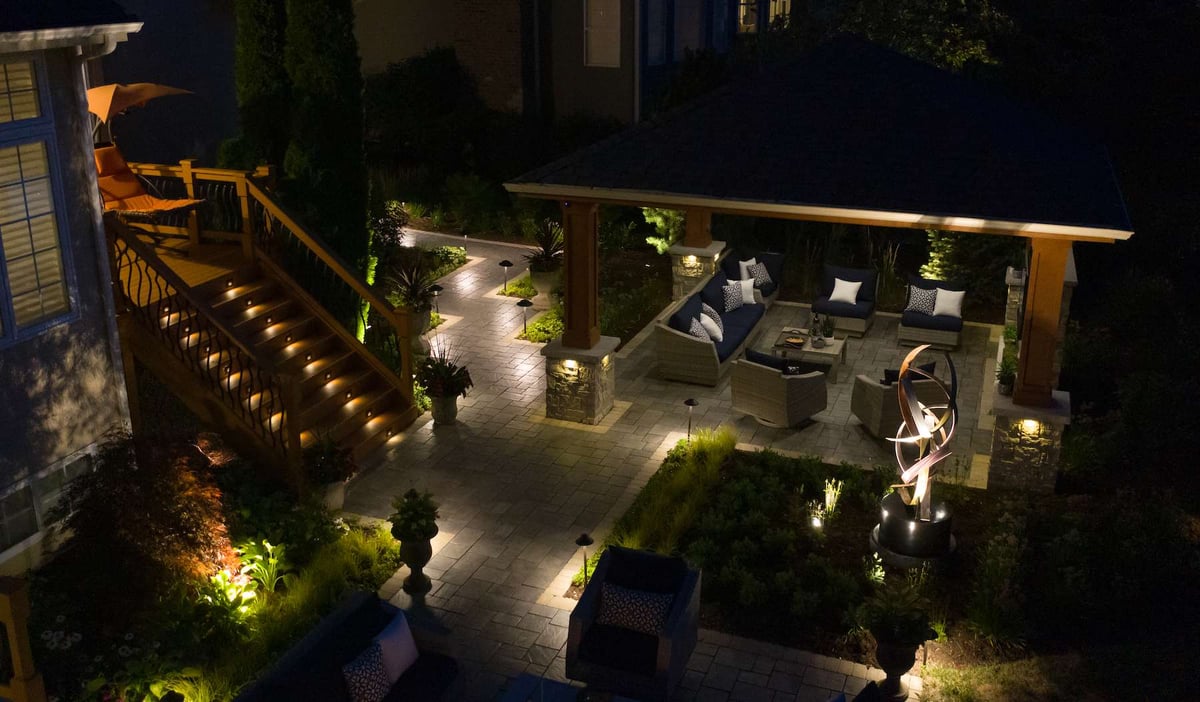 Professional landscape lighting design strategically places lights using a mix of uplighting, moonlighting, path lighting, and spotlighting to ensure functionality and beauty. Lighting done right can also enhance your safety and security.
Nothing can take a boring patio from bland to brilliant the way a little landscape lighting can.
We Can Help You Make the Right Patio Redesign Choices
As you look at your boring patio, we hope these tips have given you some creative solutions to enliven your space.
You can still have the backyard of your dreams; maybe your patio just needs a little sprucing up or the right enhancements to get you there.
If you still can't see how you can take your patio to that next level of enjoyment, comfort, and better functionality, give us a call. Let us help you work through how you want to use the space and present you with some options. Maybe there are some creative solutions that you haven't even thought of that are just what you've been seeking.
Ready to see how KD Landscape can transform your Greater Chicago landscape into something you can really enjoy? We'd love to share our design and installation expertise with you and deliver a space you'll never want to leave. Get started today with a free consultation. Together, we can prepare a patio redesign that is ideal for your needs.