When your backyard is an empty canvas, you can create almost anything you can dream up.
But that open, expansive space does mean neighbors to the left and right can peer in on your daily outdoor activities.
For busy physicians living in Plainfield, IL, unwinding after long days admiring a backdrop of ponds and prairies behind their yard is a welcome activity. But these homeowners craved privacy while they were relaxing.
KD Landscape delivered with a landscape design and installation that met their needs and more, offering seclusion and a cozy place to spend evenings outdoors.
Plainfield, IL Landscape Project Challenges
This Plainfield, IL landscape project faced multiple obstacles from the start.

Many projects start with outstanding questions. Instead of trying to focus on everything all at once, the way to alleviate this is to find out what specific elements customers are seeking, so a landscape professional can offer solutions to meet the client's needs.
Challenge #1: Privacy & A View In One
First, there was the combination of the privacy the homeowners wanted combined with the fact that they also wanted to keep the back of their landscape open to see the amazing view that exists beyond their backyard.

This meant thinking outside of the box with the landscape design and installation to offer unique alternatives that could deliver both an open space and one that offered quiet solitude.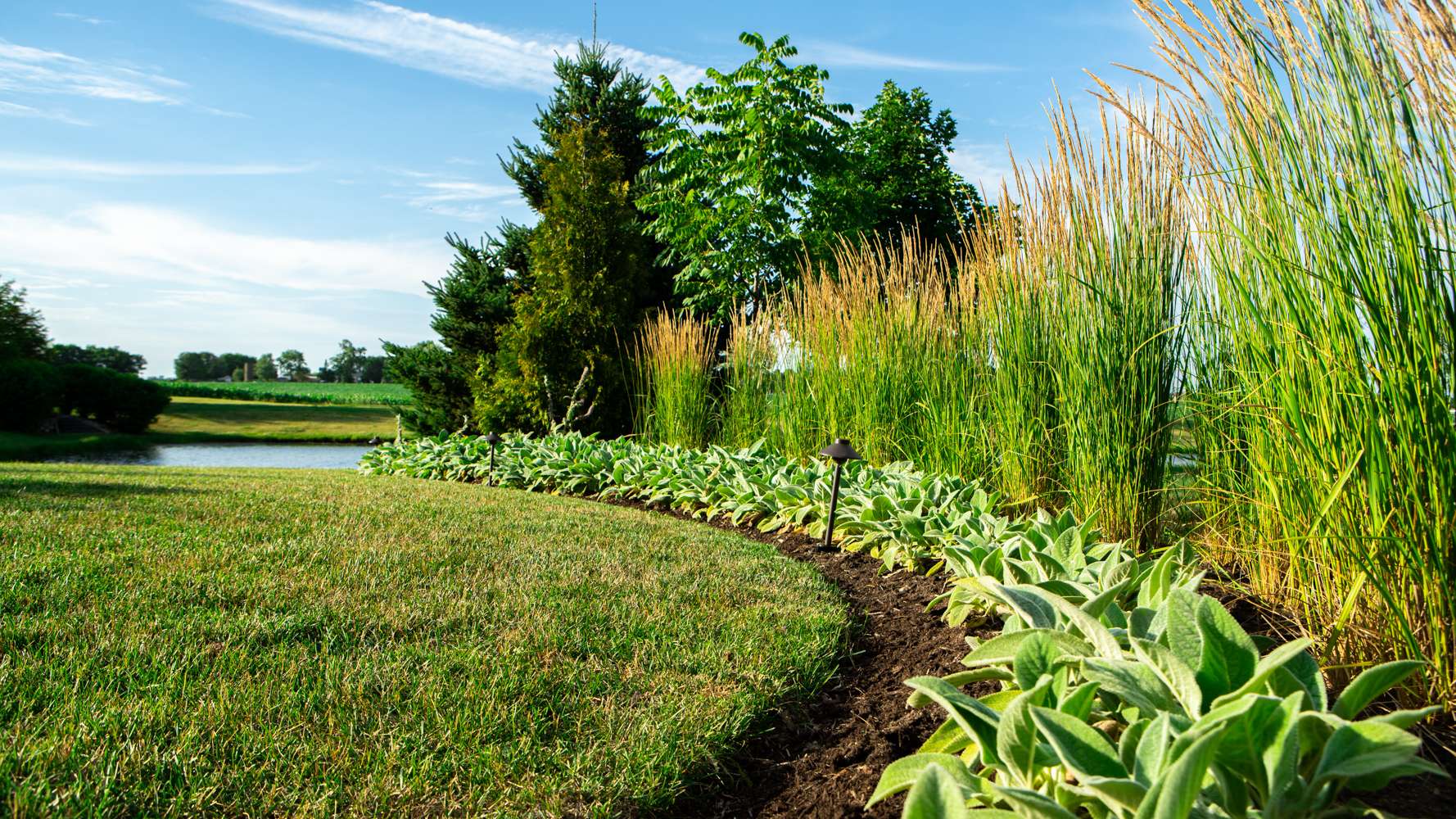 Challenge #2: A Clean Slate, But Not Sure Where to Start
For these homeowners, the backyard was a clean slate.

This is both a positive and a negative. It's a positive because anything is possible. It's a negative because for busy physicians with no time to dream up a concept or figure out what to do with their space, they weren't sure where to start. And they didn't have extra time with their high-pressure jobs for any DIY projects.

This is when the right landscape design and installation partner can step in and help by finding out what elements clients want and then offering a variety of solutions to give them choices for meeting those needs.
The Plainfield, IL Landscape Project Solutions
When it comes to tackling an outdoor renovation like this Plainfield, IL landscape project, there are things a landscape professional must focus on first to be able to break down customer needs and find solutions that will meet them.

The elements the client is looking for are essential to understand initially so they can be worked into the landscape design.

The following 4 solutions helped KD Landscape create a backyard these busy physicians truly love.
Solution #1: Addressing the Elements
With a blank backyard, this landscape needed some vertical elements that could help create privacy on the sides of their space.

The couple wanted a conversation area, some protection from the sun, relaxation, and a chance to stay outdoors into evening hours.

The view out back of a field and a beautiful lake became the focal point.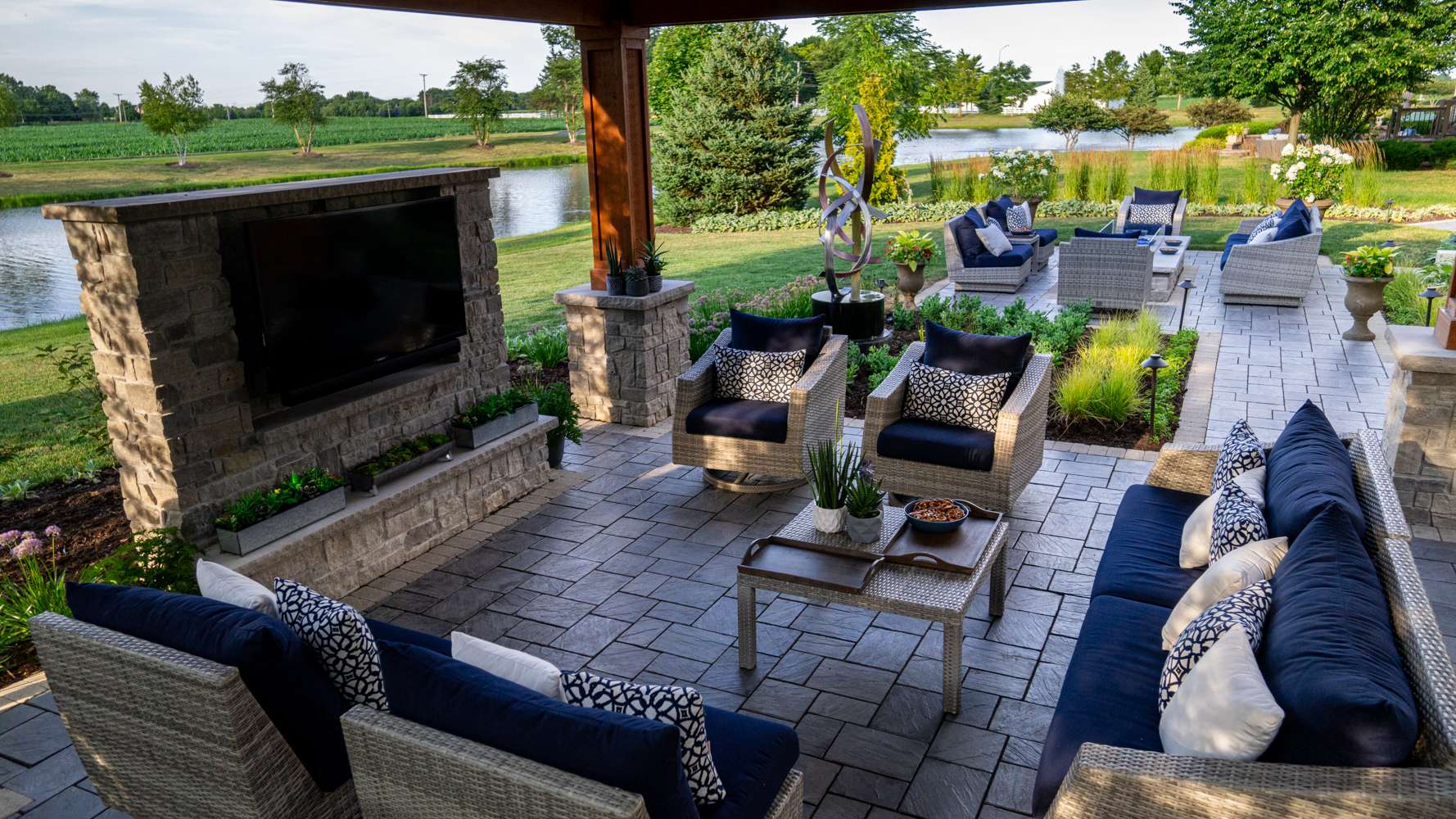 KD Landscape created a pavilion to create a nook for customers to entertain and relax in, as well as to protect them from the sun's harsh rays. Then they installed a stone wall that acted as a creative element to attach an outdoor television. This also created screening on the side that was closer to a nearby neighbor.

The pavilion was also equipped with full power and lighting for the electronic feature and to provide light into the evening hours.
Solution #2: Extending Hours of Enjoyment
A modern fire feature was incorporated into the landscape design and installation as a main conversational and entertainment area. This gathering place brought evening warmth, light, and created a cozy atmosphere.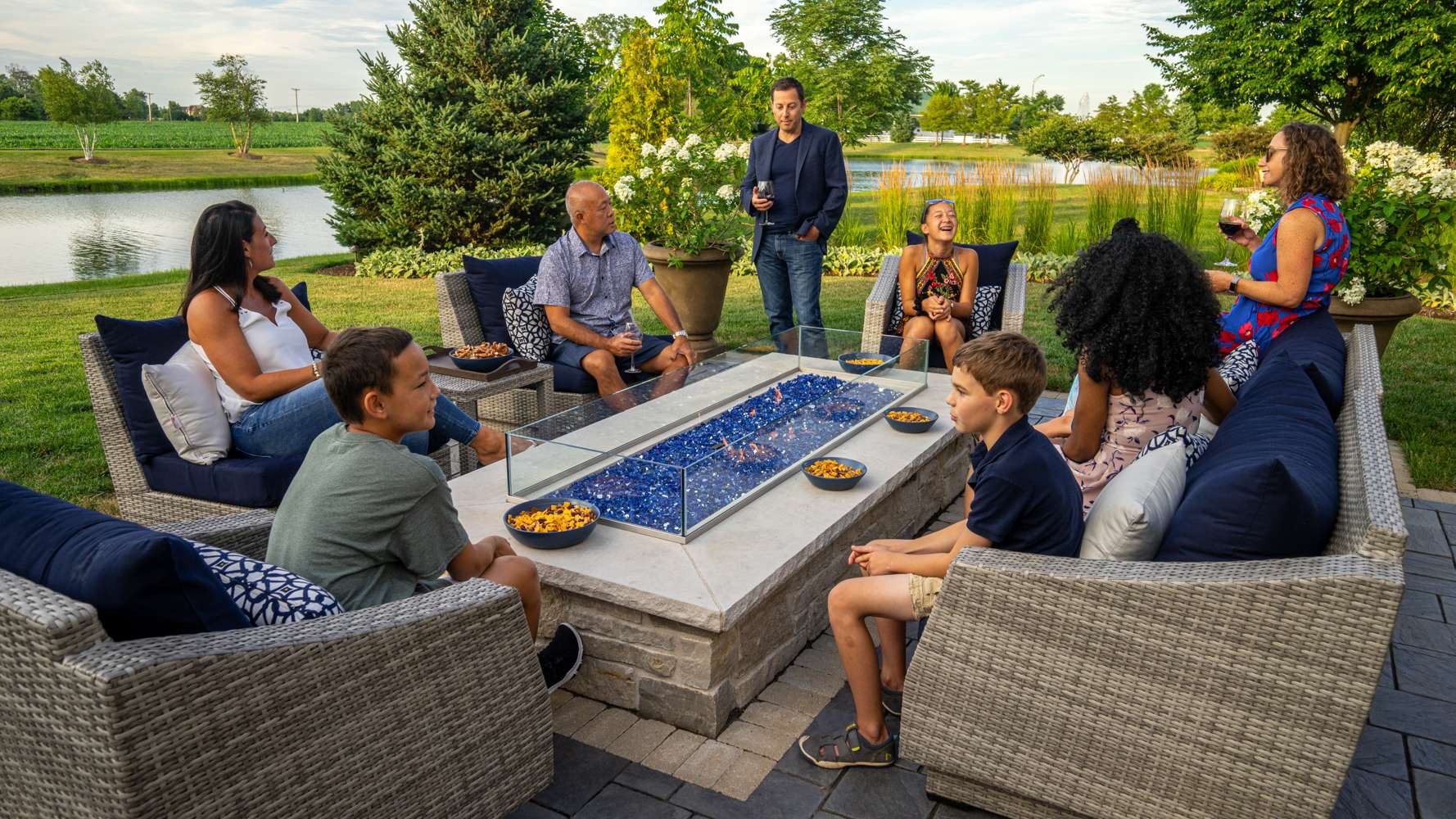 The pathway between areas was also lit to ensure safe passage, accessibility day and night, and to bring light as the sun sets.
Solution #3: Permit Management
Every community in the Greater Chicago area is different and has different rules.

Landscape design and installation projects typically require permits, especially when building hardscapes are involved, as well as any engineering work.

Permitting is a huge part of most projects. And some communities have more permit requirements than others. That means it's best to work with a landscape professional familiar with this process who can manage it and keep it off of the homeowner's plate of to-dos, making it a smoother process overall.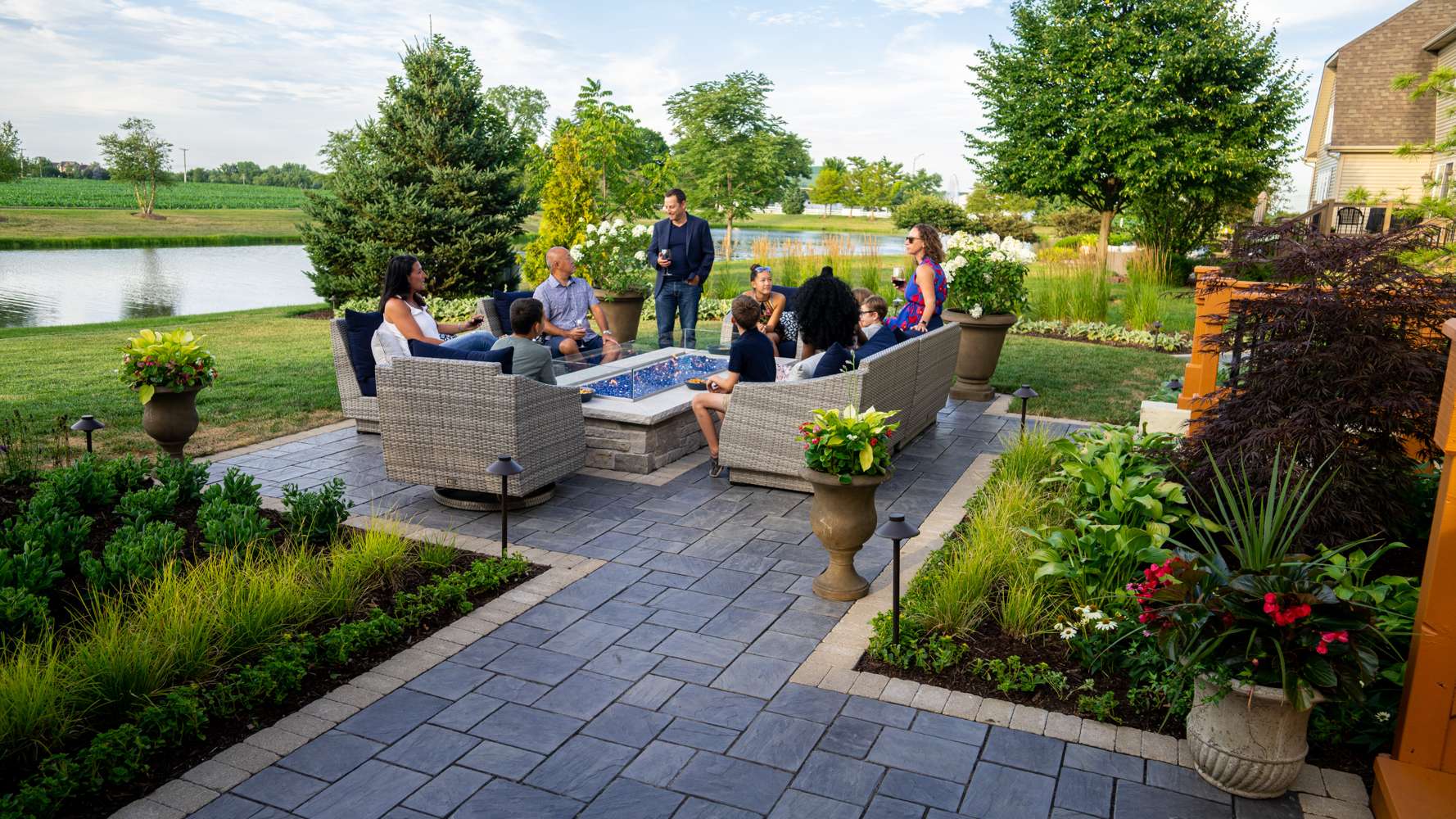 Solution #4: Color & Seasonal Interest Without the Work
Since the homeowners who use this Plainfield, IL landscape project space don't have a lot of time to plant or maintain flowers but really wanted some color, they needed a creative solution.

KD Landscaping installed low-maintenance plants throughout the backyard, as well as mass plantings of colorful perennials. A crew visits the site twice a year to maintain the plants, refresh them, and keep the yard low maintenance, reducing the hoemowners' time spent working in the year vs. enjoying it.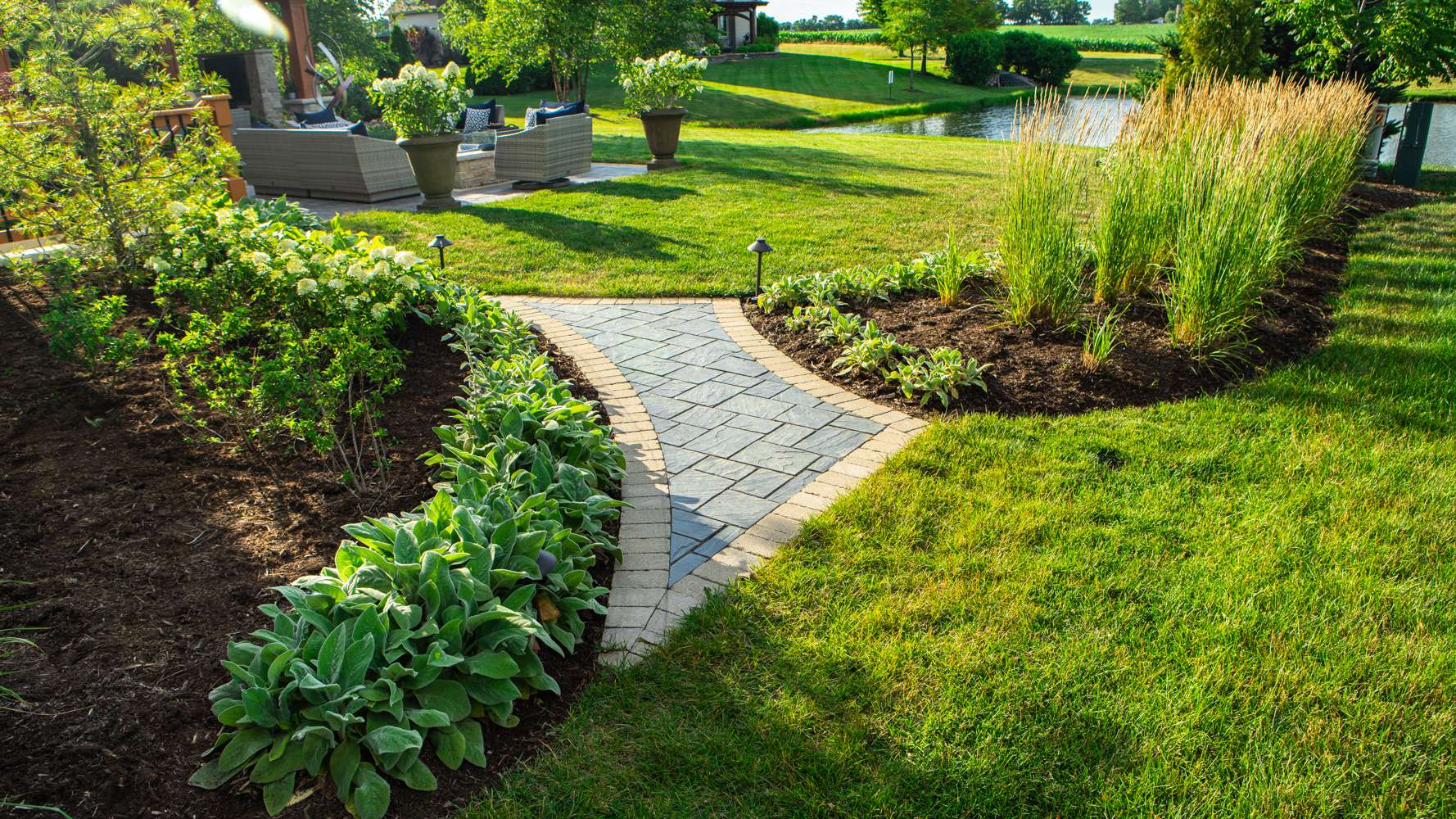 The crew also does spring cleanup for them after the winter months to keep the yard clean, neat, and tidy.
A Successful Project is One Clients Love Long-term
This Plainfield, IL landscape was built two years ago and the customers still use it daily and love spending time in it.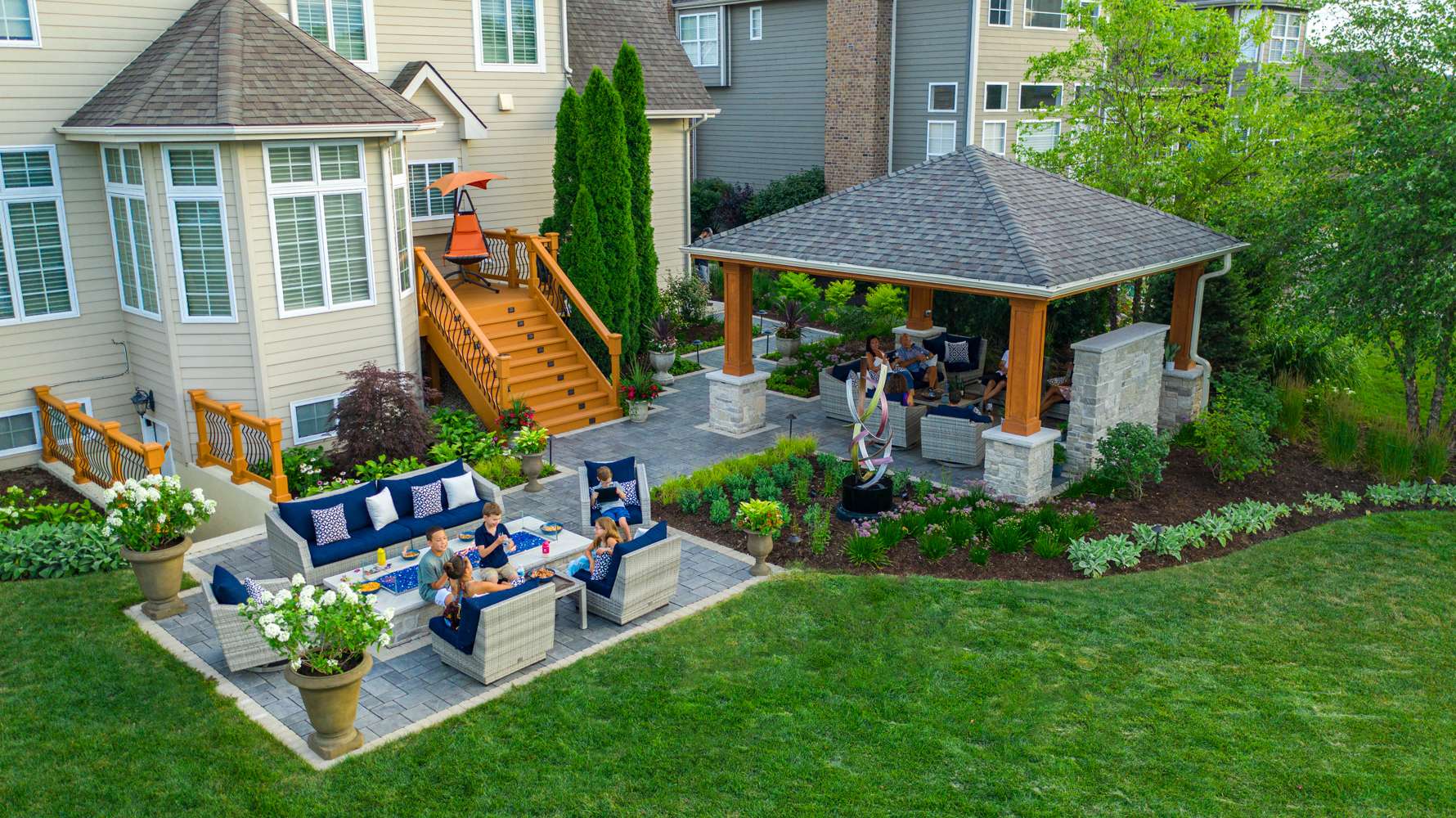 That's when you know their needs and requirements were well-met. When a landscape pro can create a cohesive landscape design and installation to bring all the desired elements together in a functional and aesthetically pleasing plan, everyone wins.
Ready to see how KD Landscape can transform your Suburban Chicago backyard into a place you'll never want to leave? We'd love to share our design and installation expertise with you and deliver a custom space. Get started today with a free consultation. Together, we can prepare a plan that works best for you.