An outdoor walkway can sure add ambiance to your landscape, boosting your curb appeal.
It can make your entrance more inviting, add a gorgeous pathway to a garden, or even a more functional and practical way to get from one area of your backyard to another.

However, envisioning how your outdoor walkway might work or be created to add a beautiful addition to your property can get confusing.

But with proper planning, outdoor walkway design done right can elevate your home landscape and provide a useful addition.

Let's look at some important considerations for you to think about to ensure you get the best walkway for your needs.
Important Landscape Walkway Design Factors
Your yard holds some great places for enhancement, and an outdoor walkway is one such way to add some beauty and function all in one.



As you consider outdoor walkway ideas, don't forget to also ponder these 4 key areas to ensure you get a long-lasting pathway that serves all of your needs.
1. Consider Walkway Lighting
You might have very lovely landscaping along the walkway in your yard, but once that sun sets, it could be tough to navigate in the dark.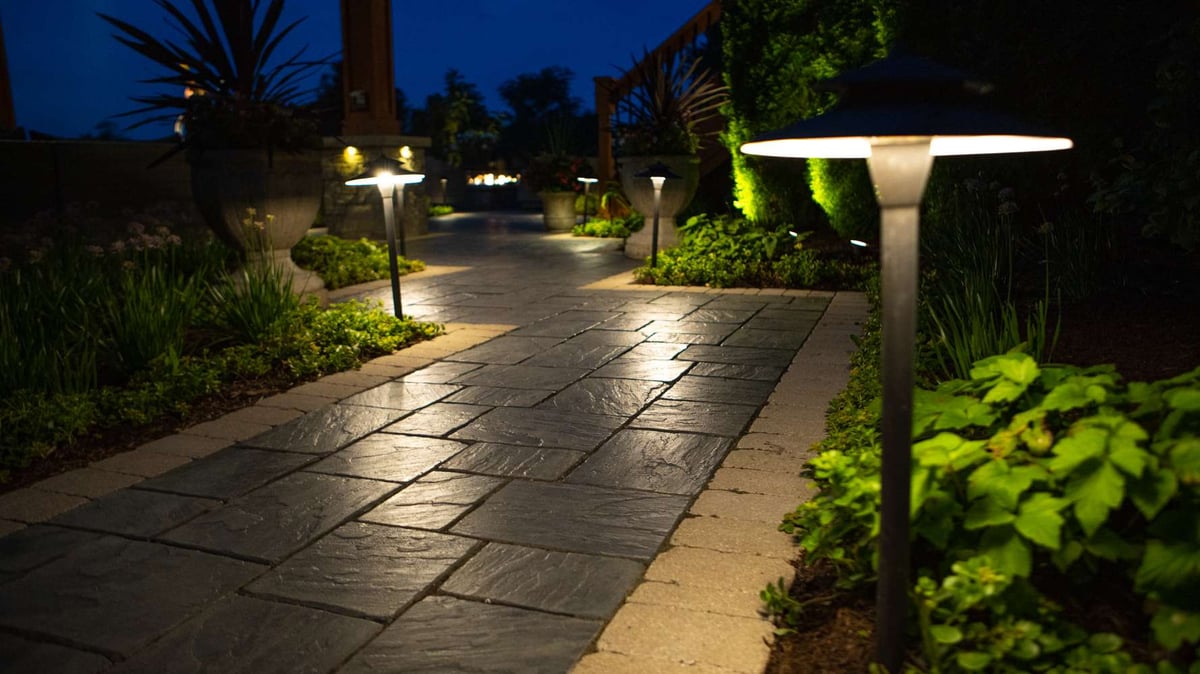 One of the best ways to ensure safety, security, and function is with walkway lighting.

This can also bring some intrigue to your landscape at night. Think about the possibilities: lighting the pathway, as well as architectural elements or uplighting nearby trees.
2. Understand Your Walkway Dimensions
You should look at the size of your space when thinking about outdoor walkway design.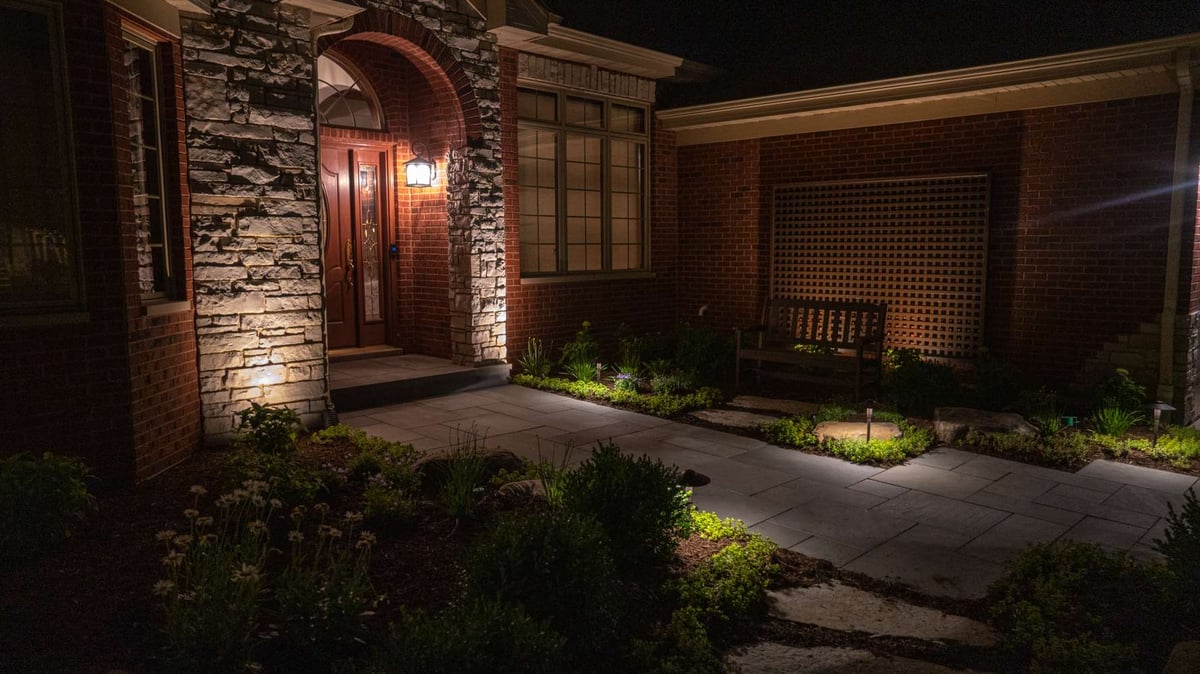 Shorter walkways that are 6 to 8 feet long and are roughly straight or slightly curved lines are smaller endeavors than longer walkways that meander from front to back yard, for instance.

The difference in total dimension will impact time to design, install, and total cost.
3. Think Through Your Walkway Material Options
Typical walkways are done with plain, old concrete. Boring. And this material certainly doesn't do anything to spice up your landscape in Greater Chicago.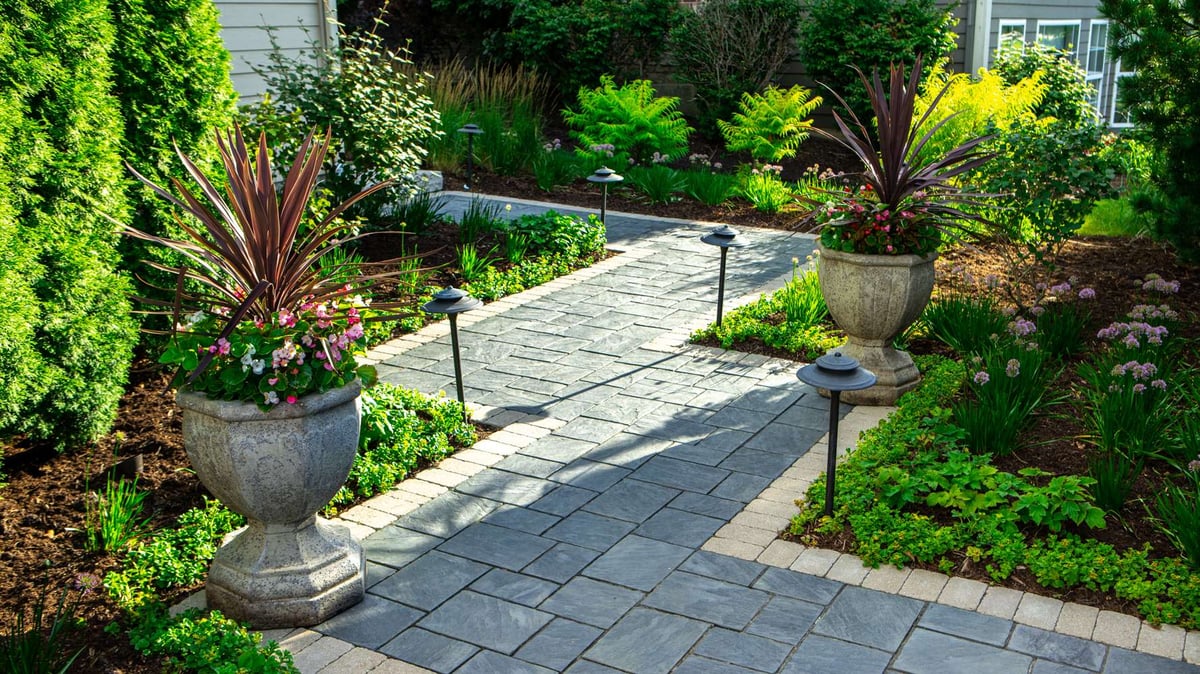 But if you chose pavers to match your home or opted for natural bluestone with its dimension, texture, and color, your curb appeal factor just doubles with these walkway materials.

On top of that, you can try patterns or borders to draw the eye in.
4. Know Your Walkway Costs
You also must consider the total cost when thinking about landscape walkway design.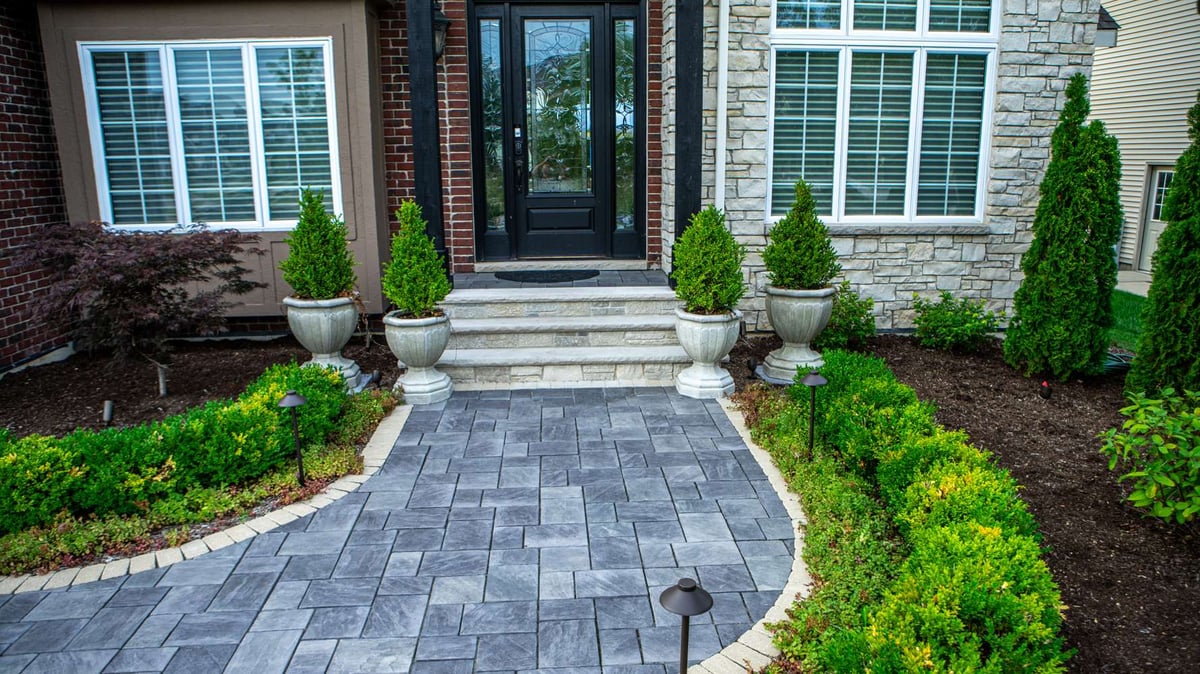 The cost of a natural stone walkway can start at $4,500 and go up to $10,000 to $12,000, while a longer natural stone walkway with sitting areas can range from $15,000 to $45,000.

The wide price range is impacted by total size as well as material choice, as well as extras like seating areas.
A Professional Can Help You Elevate Your Outdoor Walkway Design in the Greater Chicago Area
While a walkway can be thrown in place to serve a simple purpose of getting from one place to another, it's much better when that walkway can add another dimension to your landscape with unique color, texture, and pattern.

Go on a journey instead of just a walk with amplified landscape walkway design ideas.

If you still aren't sure what the right approach is for your Greater Chicago landscape, give KD Landscape professionals a call. We can design a unique and creative option that serves a functional purpose as well as an aesthetic one, giving you the best of both worlds.

Ready to see how KD Landscape can transform your suburban Chicago landscaping into a space that makes your home beam in your neighborhood? We'd love to share our design and installation expertise with you. Get started today with a free consultation. Together, we can prepare a plan that works best for you.